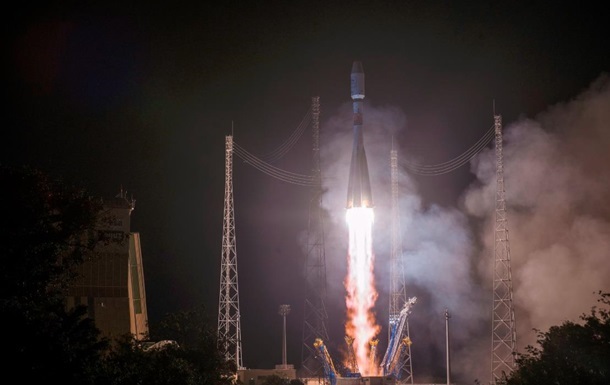 Photo: Arianespace
Launch of the Soyuz launch vehicle from the Kourou spaceport
A periodic alarm was detected for the oxidizer vapor detection system alarm at the storage location of the Russian Frigate upper stage.
In French Guiana, a fuel leak occurred at the Kourou spaceport. This was reported by RIA Novosti with reference to the representative of the press service of Roscosmos on Saturday, June 20.
It is indicated that now Russian specialists are removing the remnants of toxic fuel leaking from the Frigate booster block.
"This is a rather lengthy procedure, but after it will be possible to determine ways to resolve the problem," the source said.
Earlier in Roscosmos, it was reported that on May 21, French experts recorded periodic alarms of the oxidizer vapor detection system (toxic nitrogen tetroxide) at the Frigate storage site in Kourou. On June 6, specialists from Russia arrived there to eliminate the problem. They examined the Frigate and pre-determined the further scope of the necessary operations.
The Frigate booster block was intended to launch the FalconEye-2 UAE satellite on the Soyuz-ST-A launch vehicle. The start was planned in early March, but was delayed due to another problem with the same overclocking unit. It was decided to replace it with a spare.
In mid-March, due to the temporary closure of the Kourou Cosmodrome due to the coronavirus pandemic, the launch had to be postponed until mid-October. Therefore, specialists from the Lavochkin NGO discharged fuel from Frigate and returned to Russia at the end of April.
Since October 2011, 23 launches of Russian Soyuz rockets have been completed from the Kourou Cosmodrome. One of the launches in August 2014 culminated in the launch of the European Galileo navigation satellites into an off-design orbit due to the accident of the Frigate upper stage.
Earlier in the United States announced the explosion of the fuel tank of a Russian rocket in space. The fuel tank from the Russian Frigate-SB booster block exploded in space on May 8, resulting in 65 debris.
News from Correspondent.net on Telegram. Subscribe to our channel https://t.me/korrespondentnet
.