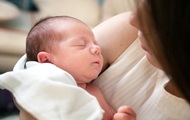 The case of the birth of several children with coronavirus at once is unprecedented. The condition of two children is stable, one newborn showed symptoms of coronavirus.
In Mexico, triplets infected with a new type of coronavirus were born. This was reported by the local newspaper Sol de México.
Two boys and a girl were born in the state of San Luis Potosi on June 17 using Caesarean section. According to the rules of the newborn, they were tested for COVID-19. It turned out that all three children are infected with coronavirus.
Miguel Angel Lutsoe Steiner, head of the state health department, called the case unprecedented for the whole world. It is noted that parents have no symptoms of coronavirus infection.
The condition of two children is stable, they have no characteristic symptoms of COVID-19. One newborn showed symptoms. In relation to it, "a reserved prognosis due to the presence of pneumonia" is maintained.
Specialists note that this is the first case of the birth of several children infected with coronavirus at once.
Parents and medical staff in contact with children were isolated. They passed the COVID-19 test, the results have not yet been obtained.
Earlier it was reported that the British gave birth to a rare identical triple. The Correspondent also wrote that the "barren" Englishwoman became pregnant in quarantine.
News from Correspondent.net on Telegram. Subscribe to our channel https://t.me/korrespondentnet
.