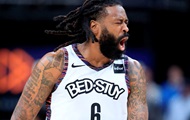 The player found out about the positive test result.
Center Brooklyn Deandre Jordan fell ill with a coronavirus. The player said this on his Twitter page. In this regard, Jordan will be forced to miss the resumption of the season, which is planned in Orlando.
"Last night I found out and confirmed once again that I have a positive COVID test result. As a result, I will not participate in the restart of the season in Orlando," the player wrote.
Earlier it was reported that coronavirus was also detected in a teammate of Jordan Spencer Dinuiddy, who is experiencing symptoms of the disease.
Recall that the calendar of the remaining matches in the NBA is already known.
.