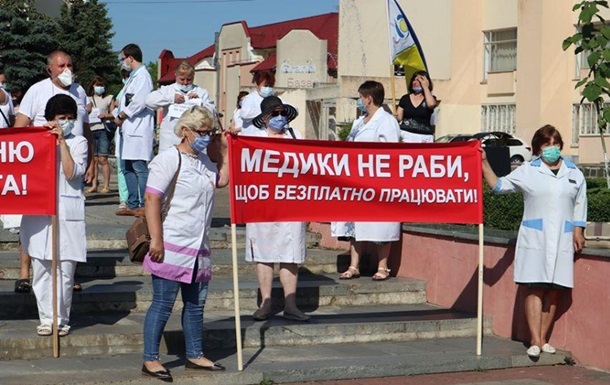 Photo: Vіstі Rіvnenschiny
Doctors protest in Varash
Doctors say that if the Ukrainian government does not pay attention to their problems, they will resort to cardinal methods, up to and including hunger strike and stopping medical care.
In Varash, Rivne region, employees of the Specialized Medical Unit No. 3 took part in a warning protest. This was reported by the local edition of Vіstі Rіvnenshchiny.
According to the mayor of Varash, Sergei Anoshchenko, doctors demand an immediate solution to the issue of payment of wages and further financing of the institution.
Doctors promise to resort to cardinal methods, including a hunger strike and stopping the provision of medical care if the Ukrainian government does not pay attention to their problems.
It is reported that since April of this year, when the second phase of medical reform began, the institution was supposed to become the community property of the community and conclude an agreement with the National Health Service.
But while the medical institution is in a transitional stage, it must be financed by the city budget, which cannot do this.
As noted by Sergei Anoschenko, before the completion of the process of transferring the institution into communal ownership in 2020, more than 30 million hryvnias are needed.
Earlier it was reported that in Kiev near the Kyiv City State Administration, doctors were protesting. The action was attended by employees of the Kiev City Center for Reproductive and Perinatal Medicine and the Center for Eye Microsurgery.
It was also reported that ambulance doctors protested in Kharkov. Doctors and ambulance drivers demanded that they be provided with protective equipment to work with patients infected with coronavirus.
News from Correspondent.net on Telegram. Subscribe to our channel https://t.me/korrespondentnet
.