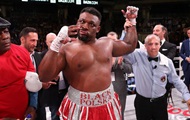 Miller's fight on July 9 will not take place.
American heavyweight Jarrell Miller (23-0-1, 20 KOs) for the third time in his career was caught using illegal drugs.
According to insider Mike Koppinger, Miller passed a positive test for an unnamed banned substance, which was revealed in the analysis of the boxer, taken by the Nevada Athletic Commission (NSAC) on the eve of his fight with Jerry Forrest (26-3, 20 KOs), scheduled for July 9 in Las Vegas as part of the Top Rank show on ESPN.
Miller was first disqualified for using illegal drugs in 2014, when he was still a kickboxer. The scandal before the fight for the three championship belts with Anthony Joshua turned out to be much louder. Then he was diagnosed with three doping agents – EPO, human growth hormone (human growth hormone) and endurobol.
Miller has not boxed since November 2018, when he beat Romanian Bogdan Dinu ahead of schedule.