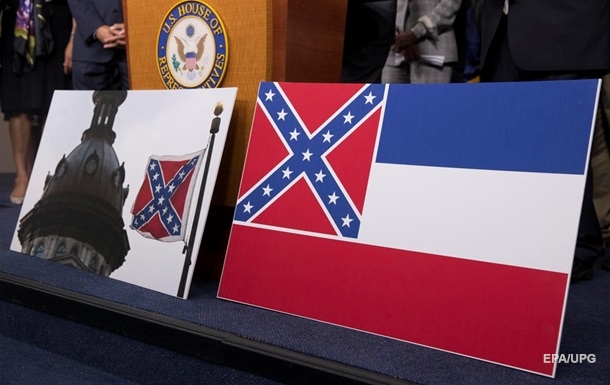 Mississippi voted to replace state flag
The debate over the appropriateness of the Confederate symbolism flared up in the States with renewed vigor after the death of African-American George Floyd in Minneapolis during police custody.
In Mississippi, both houses of the Legislature passed a majority vote on the bill to change the state flag due to the Confederation symbol. On Monday, June 29, the portal Mississippi Today.
Mississippi Governor Tate Reeves said earlier that he was ready to sign a bill to replace the flag.
"For several days, lawmakers have not been able to break the deadlock when discussing the new flag. The discussion on the 1894 flag is as controversial as the flag itself. It's time to put an end to it. I'm ready to sign the bill if they send it to me on the weekend." , – wrote on Twitter.
The newspaper notes that the House of Representatives approved the bill with 92 votes in favor, 23 legislators opposed. During the Senate vote, 37 people spoke in favor and 14 opposed. To develop a new draft flag by September a commission of nine people should be appointed. In November, state residents will have to approve or reject the proposed option. Mississippi will not have an official flag for the period prior to the vote.
The Mississippi flag is the only state flag in the United States to display Confederate symbols – a blue cross with stars. The Confederate States (Southerners-slave owners) were opponents of the northerners in the Civil War of 1861-1865, one of the reasons for which was the policy of the non-proliferation of slavery in the country.
Earlier, Princeton University, USA, excluded from the names of the faculty and college the name of the 28th US President Woodrow Wilson due to racism.
Note that the topic of the fight against racism has become popular in the last war after the incident that happened in the United States. Police officers killed an African American during his arrest.
News from Correspondent.net on Telegram. Subscribe to our channel https://t.me/korrespondentnet
.