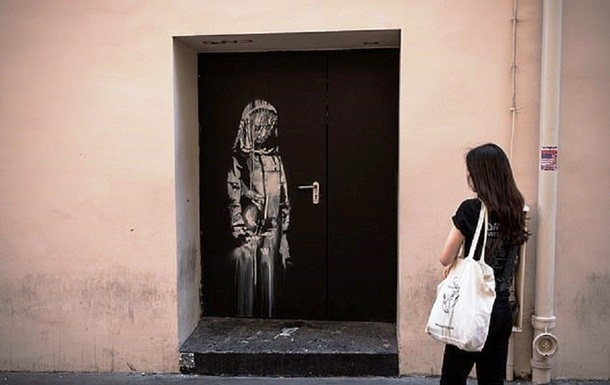 Photo: dailymail.co.uk
Banksy kidnappers found in France
Police found the stolen work of the famous street artist Banksy in an abandoned house in Italy.
In various parts of France, police suspected six people were detained by Banksy. On this, on Saturday, June 27, the BFMTV channel reported.
Two were charged with theft as part of an organized group, the rest were charged with harboring stolen goods. All suspects were arrested.
Banksy volé au Bataclan: six personnes placées en détention provisoire https://t.co/HRAKHjMnTk pic.twitter.com/yY8gGpbsUZ

– France Bleu (@francebleu) June 27, 2020
This is a painting by artist Banksy, painted on the door of the Bataclan Concert Hall in Paris and dedicated to the memory of the victims of the November 13, 2015 terrorist attack. This is an image of a silhouette in a hoodie who mournfully bowed his head down. It appeared on the door of the emergency exit from Bataklan in June 2018. Later, the drawing was stolen along with the door.
According to investigators, the abductors used a special tool to remove the door. After that, the attackers loaded her into the van and took her away.
Banksy graffiti attacks in Paris took place in November 2015. Terrorists attacked the Bataclan Concert Hall, several cafes and set off explosions near the Stadede France Stadium during a football match.
---
Banksy is an English street artist, one of the most famous representatives of street art in the world. His identity is still not exactly known. He began to draw graffiti from the 1990s. Banksy gradually switched to stencils. His paintings are usually devoted to acute social problems or political events. The artist's works are sold at auction.
Recall, the door with work was found in early June in a farmhouse in the village of Teramo in Italy.
.