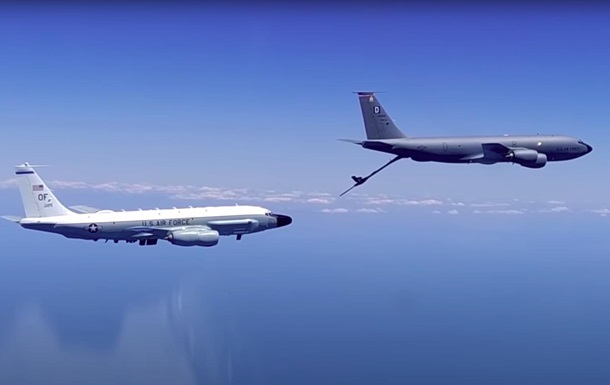 Photo: Screenshot
US Air Force over the Black Sea
American aviation unfolded after approaching a Russian fighter, the Russian Defense Ministry said.
The Russian air defense system discovered American reconnaissance aircraft over the neutral waters of the Black Sea, and a Su-30 fighter of the Russian Black Sea Fleet's naval aviation was sent to intercept, the Russian Defense Ministry said June 26.
The crew of the Russian fighter approached a safe distance from air targets, identified them as a US Navy R-8A Poseidon patrol aircraft, RC-135 strategic reconnaissance aircraft and US Air Force KS-135 refueling aircraft, the report said.
The Russian Defense Ministry noted that after the approach of the Russian fighter, the Americans changed the direction of flight from the Russian border.
The video presented by the agency shows the moment of refueling in the air of the US Air Force strategic reconnaissance aircraft RC-135 with the help of the KC-135 refueling tank. Also on footage is a Boeing P-8 Poseidon anti-submarine patrol aircraft.
Earlier, the United States deployed heavy B-2 Spirit bombers to Europe – to the Lajes air base, located on the Portuguese Azores in the Atlantic Ocean.
Last week, the USS Oak Hill, an American landing ship dock, entered the Black Sea and joined the USS Porter DDG78 missile destroyer.
News from Correspondent.net on Telegram. Subscribe to our channel https://t.me/korrespondentnet
.