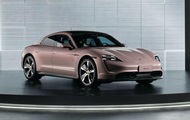 The company began to produce an electric car in the most expensive and powerful versions. The basic version also received an air suspension.
Porsche presented the basic version of the Taycan electric car. It is reported by Motor.
The basic version of the car debuted in China. Initially, the top versions of the Turbo and Turbo S were released. Later, a simpler 4S version with two electric motors came out.
The base Porsche Taycan received rear-wheel drive and one electric motor. Like the charged versions, it has a two-stage gearbox and air suspension.
The novelty is available with two options for traction batteries: 79.2 kWh and 93.4 kWh. In the first case, the electric car has a capacity of 408 liters. s., and in the second – 476 hp On one charge, the car can drive 414 kilometers.
Up to a hundred Taycan in the basic version accelerates in 5.4 seconds, and its maximum speed is 230 km / h.
The basic version will appear on the Chinese market for $ 125,400. The release of new items in Europe has not yet been reported.
It was previously reported that the extreme Porsche 718 received a 7-band "robot". The Correspondent also wrote that Porsche introduced the 911 Targa.
News from Correspondent.net on Telegram. Subscribe to our channel https://t.me/korrespondentnet
.