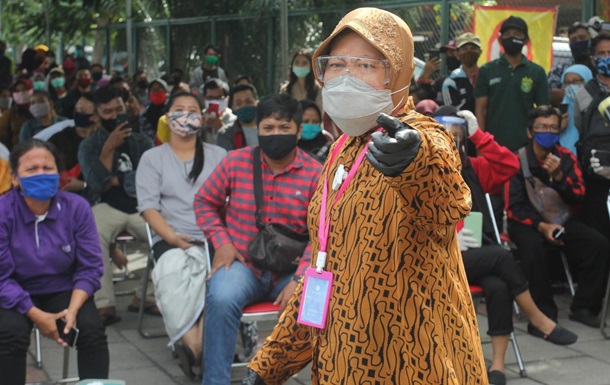 Photo: thejakartapost.com
The mayor of one of the largest cities in the country cried and knelt before the doctors. This happened after doctors said that the hospitals were crowded with patients.
The mayor of Indonesia's second largest city of Surabaya, Three Rismaharini, burst into tears and knelt in front of doctors fighting the coronavirus. The mayor asked the doctors for forgiveness for the difficulties that they had to face during the epidemic and for the worsening situation with COVID-19, writes the Jakarta Post.
During a meeting between the medical staff and the mayor, one of the doctors said that the hospitals were crowded with patients with coronavirus. At the same time, according to him, the situation is getting worse, and the townspeople practically do not observe safety measures.
After that, the 59-year-old Three Rismaharini knelt. "Please don't blame us," she said.
The mayor also asked not to blame the city authorities, stressing that the administration is facing great difficulties. Which ones, Rismaharini did not specify.
According to the publication, Surabaya became the epicenter of the spread of coronavirus in the country, where on June 29, 11.5 thousand cases of infection with coronavirus were recorded, while in the capital Jakarta – 11.1 thousand.
As previously reported, the Ministry of Health predicts a new outbreak of coronavirus. The massive violation of quarantine by vacationers in Odessa will cause a new jump in the daily increase in COVID-19.
Korrespondent.net also wrote that a new virus has been found in China that threatens the world with a pandemic.
News from Correspondent.net on Telegram. Subscribe to our channel https://t.me/korrespondentnet
.