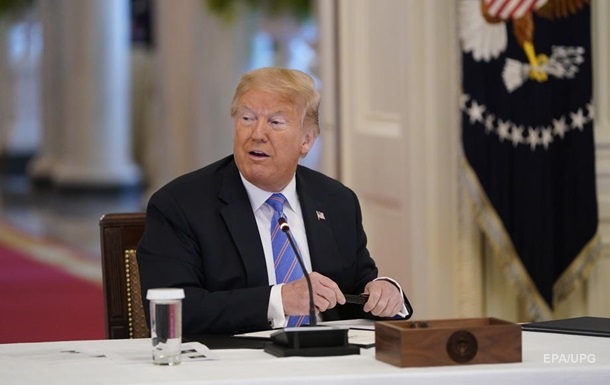 US President Donald Trump
US President Donald Trump for the second day reminds his rival in the upcoming presidential election, former Vice President Joe Biden, his reservation about 120 million Americans killed by COVID-19.
American leader Donald Trump reproaches his rival for the second time in the upcoming presidential election, ex-vice president Joe Biden, with a reservation on 120 million US citizens who died from coronavirus. With repeated criticism of the opponent, on Saturday, June 27, Trump hit Biden on his Twitter.
If I ever said something so mortifyingly stupid, the Fake News Media would come down on me with a vengeance. This is beyond a normal mistake. Why isn't the media reporting it? pic.twitter.com/KkuWLkMfp7

– Donald J. Trump (@realDonaldTrump) June 26, 2020
"If I said something so depressingly stupid, fake media would fall upon me with a vengeance. Why isn't anyone reporting this now?" – wrote the American leader.
Earlier, during a speech on the coronavirus epidemic, former US Vice President Joseph Biden made a mistake and stated that in America, 120 million people died from COVID-19.
Biden made a mistake during a speech in Pennsylvania.
"Now everything is complicated, not only with the healthcare system. People have no work, they have nowhere to go, they don't know what to do. And now we have more than 120 million deaths from Covid-19," Biden said.
The reservation did not escape the attention of Trump, who soon posted a video on Biden on Twitter and called the policy "depressingly stupid."
Trump noted that such mistakes can not be made by a person who claims to be the head of state.
Earlier, former US vice president and Democratic presidential candidate Joe Biden is confident that the Facebook administration allows current US leader Donald Trump to publish any information, including deliberately false information.
News from Correspondent.net on Telegram. Subscribe to our channel https://t.me/korrespondentnet
.