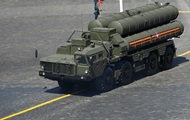 The purchase of Russian anti-aircraft missile systems will allow Washington and Ankara to get out of the impasse, says Republican John Thune.
Republican Senator John Thune proposed buying Russian S-400 anti-aircraft missile systems from Turkey and thereby resolving conflicts with Ankara. This was announced on June 29 by Defense News.
It is noted that Thune initiated an amendment to the law on budgetary appropriations for national defense for fiscal year 2021. It involves the redemption of the S-400 complexes available to Turkey from the budget of the US Army.
The deal should be concluded provided that Ankara will not buy other military equipment that is incompatible with NATO requirements with the proceeds.
In turn, Senate Foreign Relations Committee Chairman Jim Rice introduced an amendment that obliges the Donald Trump administration to impose sanctions under Turkey's CAATSA law within 30 days of the adoption of the budgetary defense budget for fiscal year 2021.
The publication is skeptical about the likelihood of the entry into force of both amendments. Even if they are agreed by the Senate, it is likely that the US House of Representatives will not approve the initiative.
and threatened with further sanctions.
News from Correspondent.net on Telegram. Subscribe to our channel https://t.me/korrespondentnet
.