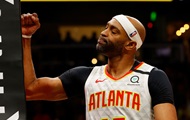 The player announced that he was leaving professional basketball.
Atlanta player Vince Carter announced his retirement. 43-year-old basketball player quits professional sports, Ball is Life reports on his Twitter.
During his 22-year career, Carter played for Toronto (1998-2004), New Jersey (2004-2009), Orlando (2009-2010), Phoenix (2010-2011), Dallas (2011-2014), Memphis (2014- 2017), Sacramento (2017-2018) and Atlanta (2018-2020).
A basketball player became a participant in the All-Star Game seven times, and in 2000 received the award for the winner of the top throw competition.
Carter played 1541 matches, gaining an average of 16.7 points, making 4.3 rebounds and committing 3.1 assists.
.